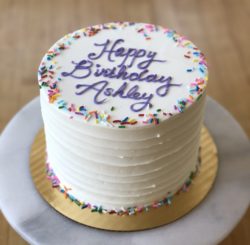 When all you need is a simple and delicious cake, a classic cake will meet your needs at any budget.  Choose any flavor for cake, filling (optional) and icing, and size.  We can write a message on top, but special piping or designs are not included (unless you add a custom cookie topper via the signature cake order form).  Festive sprinkles added per request. 
Check availability here.
Please order at least 1 week in advance and submit a form via the link below.  If you have a last minute request, please call or text 704-905-6739 and we'll see if we can help!
Round Sizes        # of Servings          Base Price
6"                               8 – 10                          $60
7"                               10-15                           $70
8"                              15 – 20                          $85
9"                              20 – 30                          $100
10"                             30 – 40                        $135
11"                             40 – 50                        $175
12"                              50-65                         $215
cl