Review our pricing tiers below to determine the type of cake that fits your needs and budget.

Choose from the categories below:

Cupcakes

Fill out this simple form to check on our availability. A quote will not be provided until an order form is submitted. OR skip this step and…

Submit an order form for a quote.
In addition to decorated cakes, we offer delicious and festive Cake Jars that are a quick and easy way to have your cake (and eat it too!). A variety of flavors are always in stock.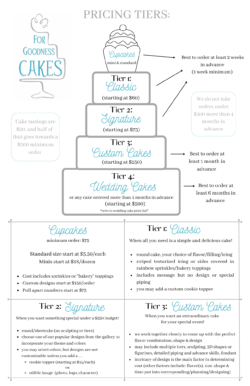 FREQUENTLY ASKED QUESTIONS:
Can you accommodate my order within a week?

Sometimes. We often keep small cakes in the freezer so if you're in a pinch and need something soon, please give us a call. We might not respond by email in time. Cake jars are always in stock – text 704-905-6739 and we can send a photo of what we have.
When do you bake your cakes?

We usually bake on Tuesdays but sometimes it's later in the week.
How will a cake that's baked Tuesday still be good and not dry out for my event on Saturday?

Since our cakes are made with a high butter and sugar content, they are incredibly moist and will stay that way for several days. We store our cakes in the freezer for a couple days before we begin working on them and have found that this method intensifies the flavor and moisture in the cake. Since many of our designs are labor intensive, we sometimes need multiple days to work on them. We (almost) never bake the cake the same day we decorate it since it needs time to rest and gain structure for decorating. We prefer to complete your cake at least 2 hours before you need to pick it up so that it's cold and ready to be safely transported. We have been doing this for almost 20 years and have built a reputation for some of the best tasting cakes in the area. The freezer is our friend. Promise we know what we're doing!
How much should I expect to spend on a cake?

That depends on many factors, and we sell cakes for as little as $60 and on up to $2000+! You can get an idea of our classic cake pricing by visiting that page, which you can use to determine pricing for signature cakes (see the descriptions for each cake on the flickr gallery). Generally speaking, a greater variety in colors and themes, piping, design work, shaping, figurines and multiple tiers will increase the cost. After the base price, additional servings start at $3.50/each before any design work and increases to a minimum of $5 for multiple tiers and around $10/serving for sculpting. Cost is not always about the size of your cake and not necessarily determined at a per serving rate. Our grooms cakes tend to cost more per serving than our wedding cakes with an average of 60 servings and $800.
Why are cakes so expensive?

While ingredient costs tend to be low for cakes (in comparison to some other food products), these prices are continually rising along with everything else due to inflation. We always use the highest quality products available. But, it's not the butter, flour and sugar, cake boards and boxes that you are paying top dollar for when you order a cake from FGC. The amount of time that goes into making and planning your cake is where your money goes. High level design work is incredibly time consuming and takes longer than the baking/icing alone. Aside from just that, we put countless hours and energy into: communication with customers, research and planning, ordering and picking up supplies/ingredients, sending quotes and determining whether or not we can take more orders, trying out new design techniques, making deliveries, marketing/photography/social media, dishwashing and cleaning….oh the cleaning!!! It's a lot. We don't do this to get rich. We do it because we love it!
You're always booked when I want to order a cake! How do I get in?

Bummer! There are certain times of year that we get booked more quickly. This is a small operation, I also run a busy household with two young kids, and we can only do so much per week. Generally we do not take cake orders in December since we focus on Christmas classes and promotions. Spring and Fall are high wedding season and some weeks get booked months in advance. We also hold Cakestravaganza Camps and take some time off for summer vacations which means we take very few cake orders from mid-June – August. Priority goes to our big orders (weddings) that are placed more than 4 months in advance. Always order as soon as you know your event date – it's never too early. We can almost always fit in a classic cake order. Don't give up…we'd love to serve your cake needs!
How should I prepare for transporting my cake?

Thank you for thinking ahead! Keep your car cool (especially in warmer seasons), and it is best to use a flat, level surface to hold the cake with a nonslip mat underneath. The floorboard in front of the passenger seat, or the trunk is the best level space. If your cake is small, does not have a topper or is not multi-tiered, you can safely store it on seat, but since the seat is tilted, we do not recommend this for tall or multi-tiered cakes! A yoga mat is great for transporting cakes, or we can provide you with a small nonslip mat. If you are traveling a long distance, please reach out to Haines in advance for cake dimensions and to talk over the process. We want your special cake to arrive at its destination undamaged!
How should I store my cake when I bring it home?

We usually suggest refrigerating your cake overnight if you aren't going to cut into it until the next day. If you are serving it the day you pick it up, then leave it out at room temperature (in a cool, dry area and away from tempted furry friends!). We do suggest that you bring the cake to room temperature at least 2-3 hours before serving it, but keep in mind that cold cakes are much safer to transport (less likely to form air bubbles or shift). Cakes tastes best at room temperature!
How should I store leftover cake?

How could you possibly have leftovers? Well ok, it happens. Be sure to cover the exposed cake (meaning the cut part not covered in icing) with plastic/foil to keep it from drying out. The icing is what seals in the moisture! Most cakes are ok to leave out at room temperature for a several days. Shelf life is extended when refrigerated, but that can also tend to dry it out. You can also freeze your cake (wrap well in plastic wrap, then foil, then tupperware or ziplock!) and it will be great for up to 6 months!
Can I get a sample of your cakes even if I'm not ordering a wedding cake?

Yes! We sell $50 sampler boxes. It's a great way to test out what we have to offer, and it makes a fun dessert activity to share with friends or loved ones.
Do you sell cookies?

Even though we are known for our cookie baking and decorating classes and our delicious cookie toppers for cakes, we do not sell individual cookies. We have some wonderful recommendations in the Charlotte area to refer you to.
Do you make "smash cakes"?

It might depend on what you have in mind. If you order a custom or signature cake, we can also make a very small and simple 1 layer 4″ round cake ($25 minimum) to match it. That size is plenty for a baby, but might be smaller than what you envision for a "smash cake photo shoot." If you want something bigger, you'll need to order a classic or signature cake separately.
Can you ship cakes?

No, we do not (and never will!) ship decorated cakes. However, we can ship our delicious cake jars!
What are your Cancellation Policies?

Please view our policies here.