It's healthy and delicious, and people can't get enough of our homemade Goodness Granola! This yummy concoction of oats and nuts is the perfect "pick-me-up" and makes a great gift.  Come by for a free sample or call to place an order!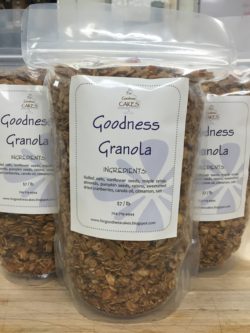 Ingredients: Rolled oats, sunflower seeds, maple syrup, almonds, pumpkin seeds, raisins, sweetened dried cranberries, canola oil, cinnamon, vanilla extract, salt
Price: $7/lb (1 cup = 4 oz)
Sold by weight in any amount.